First, create a pattern. The beauty of this dress is that is it super loose so you don't have to be exact in your measurements! Just make sure that you create your pattern large enough to fit comfortably across your bust and hips. This dress does not have a closure (no zipper or buttons) so make sure it's loose enough you can just pull it over your head. If you are sewing with a knit, you'll have even more flexibility because the fabric will stretch! This is a rough drawing indicating how to go about cutting out your dress front and back.
Take your body measurements and draw up a pattern (on butcher paper, tissue paper, or regular paper taped together) that will fit your measurements. Be sure to measure from around your collarbone to your knees or so to determine your needed garment length. Keep in mind that you need to add a little extra length for hemming and if you belt your dress it will make it a bit shorter as well. It is better to fold your paper in half then draw just half of your pattern that way when you unfold it the pattern piece will be symmetrical.
You can create notches on your pattern pieces if you desire to help with matching up side seams and shoulder seams. Fold your fabric with the right sides together and place your folded-in-half FRONT pattern piece on it with the folded paper in line with the folded edge of the fabric. Pin in place and cut. Repeat for your BACK pattern piece. Unpin your pattern from your cut out fabric piece and you should have two big rectangular shaped pattern pieces.
Now, gather the shoulders of the garment. Do this by sewing a line of basting stitches. Basting stitches are the longest stitch length, on my machine this is a 5. To gather pull on the ends of either the top or the bobbin thread. It is up to you on how gathered you wish to make this. If you gather a lot, you will get a garment that is almost sleeveless while if you don't gather as much your garment will have sleeves that come down about two inches off the shoulder (this is how mine is). Forgot to take a picture with my sweater off to demonstrate this! oops! :) Repeat the gathering process on all four shoulder edges of your fabric pieces. Next, place FRONT and BACK pieces on top of each other with RIGHT sides together. Match up your shoulder edges and pin in place. Stitch. I used 5/8 seam allowance. Press seams open.
Again, with RIGHT sides together, match up your side seams and stitch stopping at the dot I've indicated on my drawing. Backstitch at the dot to reinforce. The armhole space is between the shoulder seam and the dot, so you'll have to determine where you place your dot depending on how much armhole space you need. It may be helpful to drape the dress over your body after you stitch your shoulder seams and pin where you would like your side seam to stop at. My first attempt at this was too large of an armhole. I had to go back and stitch further up the side seam to make a smaller armhole. After stitch up side seams, press open and continue pressing under the edges of the armhole. You can turn this under once, and then fold again to make a narrow hem. I just trimmed it with my fiskar scissors and turned it under once and stitched. Or if you have a serger you can serge the arm hole edges and then turn under and stitch. If you're really motivated you could even make armhole facings or binding..obviously I just wanted a quick project so I didn't go to this much trouble! Also, my fabric doesn't ravel very easily so it was okay to take a few shortcuts. If you are sewing with a fabric that ravels really easily I wouldn't recommend just folding it under once and stitching like I did. :) After trying the dress on, I decided my neckline was gaping too much so I decided to make a small pleat in the center back to take some of this extra fabric in.
Now, what to do with the neckline. You could make a neckline facing or do a narrow hem if you don't want to add ruffles to your dress. I really, I mean really, like ruffles...so this is what I chose to do! Make a ruffle piece. I cut out about 3 before I got it the shape that I wanted. The picture shows what my piece looked like. I cut two (with right sides together) then stitched it up the center on the one end. The result was a circle/v-ish shape. I cut another 2 pieces that were slightly smaller than the first two because I wanted to overlay them on one another on my dress. Since my ruffle pieces were cut on the bias of the fabric, they won't ravel so I chose not to finish the edges in any way. If you are wanting to add a little narrow hem to the bottom of your ruffle pieces, make the pattern piece a little wider to allow for this. I arranged the ruffles on the neckline of my dress in a way that was pleasing to me and then I stitched them down. After both layers of ruffles were stitched on to the dress, I used the overlocking stitch (serging stitch) on my machine on the neckline. I didn't do any other finish than this because I planned to cover it with lace and knew it would not be visible once I was wearing it. A while ago I purchased a bag that was brimming with lace trim from Goodwill for just a few dollars and it has come in very useful so far! See how else I used some of this lace making t
his sweater
! I pinned on my thrifted black lace on to my dress neckline and stitched it down.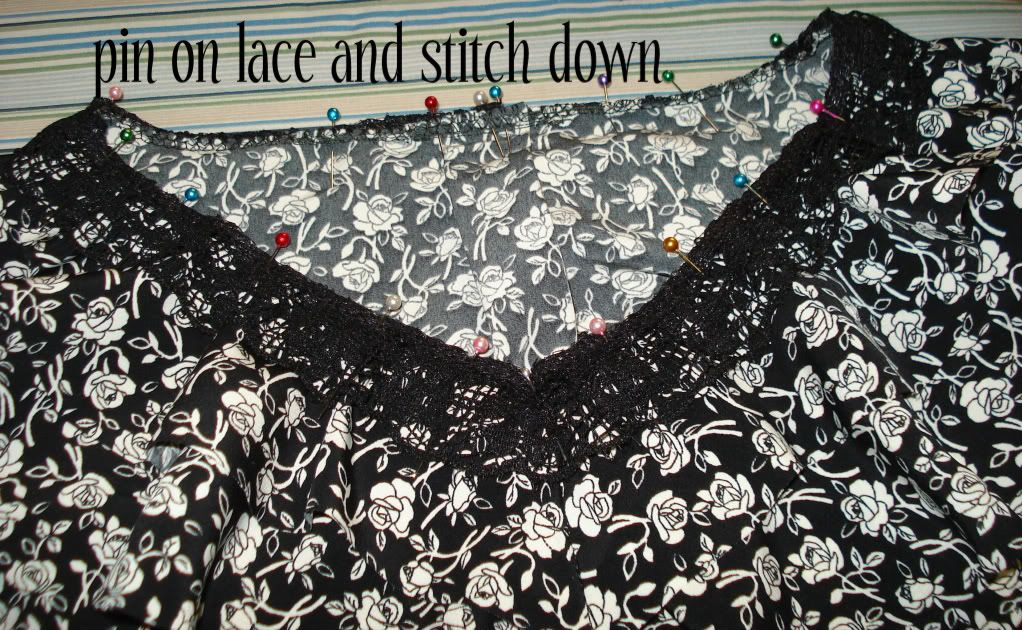 To hem my dress I just tried it on and determined the length that I wanted it and folded under 1/4 of an inch (press) then folded again about 1 inch (press and pin in place). Then I blind stitched around the entire hem and that was it! My simple and stylish tunic dress! I just love the black and white color combo...just add in ruffles, lace, AND flowers, I'm one happy girl!